How much do you have saved for a down payment on a home? For many would-be homebuyers, saving up enough funds to cover a down payment and closing costs often feels like a monumental task. Luckily, you may be able to purchase a home with far less money down than you thought.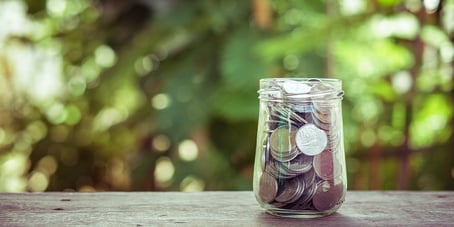 A down payment for a home purchase generally ranges from 3% up to 20% of the price of the home, but there are first time home buyer loan programs available with zero down payment requirements, as well.
You may not realize that some loan programs allow you to use gift funds for a down payment. So, here is idea #1.
1. Consider Gift Funds
Some specialty programs at American Pacific Mortgage allow you to use gift funds for your down payment. If you have a family member, business partner, or employer who wants to gift you a down payment, gift fund programs can help you use that gift to get into your new home.
Supplementing Your Income
Looking for ways to save up more money faster? If you are looking for creative ways to increase your income, here are some money-making ideas that don't involve getting a second (or third) job.
2. Become a billboard.
If you don't mind having your car transformed into a billboard, FreeCarMedia will pay you up to $400 a month if you wrap the entire thing with an advertisement. More subtle back window advertising can pay around $50 a month.
3. Leverage your social network.
Are you a social media influencer? Wingsplay will pay you to share videos on Facebook, Twitter, or your blog. Every time one of your followers watches the video you've shared, you get paid.
4. Make money online.
One of the most legitimate ways of making money online is to offer your services as a virtual assistant (VA). If you have a reliable internet connection, you could pick up jobs ranging from writing, graphic design, researching, editing, transcription, data entry, and more. VA jobs can be found at Elance, Upwork, and Guru. A few hours online on the weekend could help you earn some extra cash fast.
5. Sell your photos.
Stock photo companies such as Shutterstock, iStockPhoto, and 123RF will pay you for your images. If you love taking pictures, follow the submission guidelines and you could get paid every time one of your images is downloaded.
6. Sell your stuff.
You know what they say… one man's junk really can be another's treasure. It's time to get rid of the unwanted or unneeded items you have collecting dust throughout your home. Have a yard sale, or list unwanted items on Craigslist or eBay. Clothing and furniture can be sold through your local consignment store. You can even sell unused electronics and even gift cards for some extra cash.
7. Get behind the wheel.
Your car may be a big money-making asset for you. If you have a good driving record and insurance, you could get paid to drive passengers with a rideshare company such as Uber, Lyft, or Wridely, or Shuddle.
8. Monetize your hobbies.
What's your favorite hobby? You may be surprised to find it may be something you can monetize. You can sell handmade items on Etsy, such as knitted scarves, crocheted baby blankets, or handsewn clothing. For the not-so crafty, consider catering your friend's baby showers or parties, or offering tutoring or music lessons to the neighbor kids.
9. Go treasure hunting.
If you like to spend your weekends at garage sales and flea markets, start looking for something other than antiques. Scrap metals, such as copper, brass, aluminum, and steel, can be exchanged at scrap yards for cash. Take a magnet with you; it won't stick to the more valuable metals such as copper and brass. If someone is literally giving away an ugly pair of brass bookends, take that brass and turn it into cash at the scrap yard.
10. Return to your pre-teens.
Remember when babysitting, pet sitting, dog walking, house sitting, and lawn mowing was your main avenue for making money? Your friends, coworkers, family members, and neighbors would be thrilled to pay someone they know and trust to watch over their little ones while they go on a date, or to take care of Fido while they are out of town for the weekend.
Money-saving Ideas
Here are some other creative ideas to build up your savings:
11. File your taxes.
About 83% of Americans have received an average tax refund of $2,893 from the IRS (according to money.cnn.com). That's a nice chunk of change to put directly into your savings account to go towards your down payment and closing costs.
12. Adjust your insurance.
If you aren't using your car to commute, you may find it's possible to adjust your auto insurance coverage and save money on your monthly premiums. Talk to your insurance broker about other ways to save, such as increasing your deductible amounts or combining multiple policies with the same provider.
13. Ditch cable.
Cancelling your cable doesn't have to be a major sacrifice. With digital services, such as Hulu and Netflix that allow you to stream movies and TV shows, you can still stay caught up with your favorite show or movies at a fraction of the price.
14. Keep track of your spending.
The easiest way to see where your money is going is to create a budget and track your spending. Keep track of every single purchase and payment that goes out of your account. You can use a spreadsheet, budget software program, or even an app such as Mint Money Manager from Intuit to keep track of where your money goes. You may be surprised how much you are spending on non-essentials and impulse buys.
15. Go on a spending "diet."
Put yourself on a 30-day spending diet. For one month, drastically cut your spending to only essential purchases. Every week, deposit the money you've saved on clothing, dining out, or new gadgets into your savings account. Just like a real diet, seeing the results of your discipline each week can encourage you to keep up your new, good (spending) habits. At the end of the month, see what areas of your budget you are willing to slash to maintain your new, "slimmed down" spending habits and keep your savings growing.
16. Pay with cash.
When you make purchases with a credit card, you are paying more for the item when you include the card's interest rate — if you don't pay off your credit card balance in full each month. Depending on the card, that could be anywhere from 12% – 30% higher than the cash price of an item. Resist the urge to make purchases with your card, and only buy something when you have the cash for it.
17. Set it and forget it.
One of the easiest ways to get more money into your savings account is to set up an automatic deposit. Instead of having your entire paycheck deposited straight into your checking account, select a specific amount to go into your savings account automatically.
18. Shop smarter.
Groceries are an essential item, but you can slash your grocery budget by shopping smarter. Make a list before you go to the store and stick with it to avoid impulse buys. Don't shop on an empty stomach. Buy items in bulk, or purchase the generic "store brand" rather than big name brands. Look for sales and coupons for the items you stock up on regularly.
19. Make it, don't buy it.
Did you know that white vinegar can be used to replace a number of cleaning products in your home? You can use it as a glass and window cleaner, laundry softener, and mix it with a few drops of dish soap to use as an all-purpose cleaner for countertops and floors. Add a few drops of essential oil to get the same citrus or pine-scent you love in your more expensive cleaners, and watch the savings add up. Making your own cleaning products not only saves you money, but can improve the health of your home, too.
20. Rethink date night.
Date night, girls night out, family night, or an evening with your friends doesn't have to cost you anything. Rather than going out to dinner and a movie, for example, have a potluck style dinner at home with friends, and settle in on the couch with some homemade popcorn to stream a movie, instead. Your town most likely hosts free concerts in the park, festivals, and other no-cost events. Picking no-cost entertainment may take a bit more thought or planning, but the benefits to your budget will be huge.
21. Change your commute.
If you live close enough to work, consider riding your bike to work. Not only does riding your bike to work save you gas money, parking fees, and possibly even tolls, it will also help you burn calories, improve your health, and is good for the environment, too. If you needed more incentive to put on a bike helmet, you should know that you can earn up to $20 a month for riding your bike to work, making this a money-saving and money-earning commute option.
Conclusion
Whether you have a downpayment of 3%, 5%, or 20%, or just need to come up with some extra cash for closing costs, all it takes is a little creativity to get there. From saving more of the money you already make, to increasing your income with out of the box money-making ideas, a little extra effort can help you get into your new home in no time at all.